Sustainable Vertical Urbanism, a complete ecosystem in the sky that you never have to leave, accommodates population growth and protects the planet, but may have significant drawbacks for the people who call it home and their connection to the earth. Projects in China and Dubai illustrate the concept and its limitations.
A Vision Of The Vertical Cities Of The Future
By Ben Schiller, Published in Fast Co.Exist
Cities will need to be denser and taller in the future. It's the only way to accommodate a global population of 9 billion-plus people and increasing demand for urban living (70% of us could live in cities by 2050, according to some projections). The alternative is surely worse: More sprawl taking up what little green space is left.
The concept of a "vertical city," as sketched out in a new book by architects Kenneth King and Kellogg Wong, is something more than a hyper-dense Gotham, though. Yes, there are a lot of towering buildings but also parks, schools, hospitals and restaurants at upper levels, as well. Essentially, it's a vision of a complete ecosystem in the sky—a place you never have to leave if you don't want to.
By the end of next year one-in-three of the world's 100m+ skyscrapers will be in China, as its state-orchestrated urbanization drive prompts a megacity building bonanza. Construction of the world's second-tallest building, the 632-metre tall

Shanghai Tower

, is due to be completed next year. Suzhou will soon boast the world's third-tallest building, the 700m

Zhongnan Centre

. By 2020, China is set to be home to six of the world's 10 tallest buildings, although none will top the globe's current highest, the 828m

Burj Khalifa

in Dubai.  — The Guardian UK
Here is how King and Wong define the idea:
. . . high-capacity, high-efficiency ultra-tall buildings occupying a relatively small car-free, pedestrian-friendly parcel of land. Within this footprint are all the self-sustaining features of infrastructure, buildings, facilities, and services necessary for improving the living, working, cultural, entertainment, sports, recreation, and leisure qualities of life for residents.
The vertical city is split into multiple levels. Near the bottom is a "raised multilevel podium . . . reserved exclusively for pedestrians and bicycles," they say. Below that, cars are "relegated to circulation and parking." Above, a first level contains utilities and infrastructure like water, sewer, and power storage plants. Further up is the "street level" with entrances to all building including a "mall-like megabuilding."
Further up still are sky lobbies with "bracing/bridge connections" that make up "village centers" for shopping, drinking, socializing, and exercise. The building is made up of multiple towers each as high as one mile. The surrounding space is for farmland, which produces food, and also acts as a "buffer between existing urban centers and future Vertical Cities."
"We have to find the solution of how to move towards more density but to keep the human scale," says Yosuke Hayano, principal partner of MAD Architects, a Beijing-based practice. "People are very sensitive to space." MAD designs on a theory they call

shan shui

("mountain water"), in reference to the way cities were strategically positioned in ancient China near rivers and mountains.  — The Guardian UK
httpvh://youtu.be/7iGEXcteXBY
Video on Burj Khalifa, by Guinness World Records. Towering 828-meters (27,160-feet) above the downtown Dubai, the Skidmore Owings & Merrill (SOM)-designed structure has been the world's tallest building since its opening in 2010.

The buildings generate their own energy from renewables sources, use future materials like graphene and bioconcrete (which has fewer associated pollution than today's concrete) and mechanical innovations like rope-less elevators that can go to limitless heights. It's quite a vision.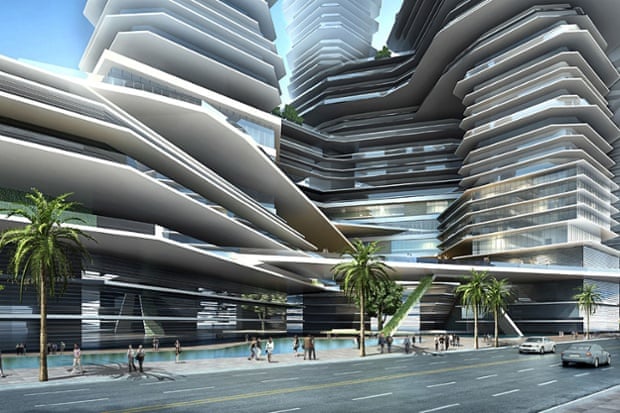 Vertical City: A Solution to Sustainable Living is in both English and Chinese and includes a lot of detail about how future cities might work. It contains a chapter on the history of the concept, as well as interviews with several leading architects. King and Wong are raising funds on Kickstarter to complete publication (presumably because, at 600+ pages and with numerous illustrations, it was very expensive to produce).
See their campaign page here.
Ben Schiller is a New York-based staff writer for Co.Exist, and also contributes to the FT and Yale e360. He used to edit a European management magazine, and worked as a reporter in San Francisco, Prague and Brussels
Updated 24 February 2021