As the full moon approached and the winter solstice upcoming ~ on Sun Dec 7, 2014 in LA, Starhawk joined a conscious community including SoCal 350 Climate Action Coalition, collectively co-creating a vision of a just transition away from climate- and ecosystem-damaging fossil fuels and industrial agriculture to a sustainable permaculture-oriented new world! 
Starhawk on Climate Change Transition Optimism
I see hopelessness infecting some of the activists who are most dedicated and committed. The urgency of the issue can consume us and turn us into joyless, hectoring ascetics who writhe in guilt over every moment of pleasure and scold their fellows for every small indulgence. "How can you go shopping when your grandchildren will be roasting to death on a dying planet?" "Human beings are a blight on the planet, and everything we touch is doomed."

We can't mobilize people by telling them they are bad and wrong and the world would be better off without them. What we need is more like a Mickey Rooney/Judy Garland "Hey kids, we can put on a show in our own backyard!" moment of optimism. We need to believe that we can do something, and that each one of us has an important role to play in making the change. We need to trust that the process of transformation can be a joyful one that will lead us into a better world. READ MORE…

Starhawk On Permaculture
To address climate change, we need a radically different ethic, one based on the values of caring, sharing, and mutual responsibility that are core values of almost all human societies and religions. We are not single, isolated actors, we are interdependent and to thrive, we must be accountable to the whole.

Indigenous cultures and those who live close to the earth have always known that we cannot take endlessly from a system without giving back. Philosophy and religion, both Eastern and Western, have preached compassion, fidelity, and told us to love our neighbors as ourselves – albeit that these virtues are often more preached than practiced.

Permaculture offers a simple, secular framework of ethics that can guide us: 'Care for the earth', 'Care for the people', and 'Care for the Future', which implies the imperatives to return surpluses into the system, limit consumption and take no more than your fair share.  READ MORE…

"The role of religion and spirituality [in environmental activism] is to hold up the values that go beyond the value of profit and the value of somebody winning and somebody losing, to say…there are things that are more important than money or gain," Starhawk said. "The value of generosity, the value of putting the good of the community and the good of the whole before your own personal gain — those are things that every religion at its core has always stood for."
Starhawk 2014 Los Angeles Climate Workshop & Winter's Dream Ritual
WORKSHOP
"Climate Justice ~ Visionary Action"
In the midst of ecological and social meltdowns, how do we stay grounded and hopeful? Today's threats are also powerful opportunities to create a new world rooted in community and ecological balance. What's needed? Courage, vision, and support to imagine a different way… In this workshop, we'll learn personal tools to manage stress and prevent burnout as we nourish our creativity. We'll also learn strategies for setting goals and priorities, and practice the interpersonal skills that build resilient communities. Join us to recharge and renew as we come together to heal our world!
RITUAL
"Winter's Dream Spiral Dance"
After the workshop & a delicious organic meal, we will anticipate the longest night of the year with a Winter's Dream ritual & Spiral Dance led by Starhawk & Reclaiming LA. Join us in sacred space as we dance the spiral, celebrate community, & rebirth ourselves and our world. In support of those in recovery, this ritual is drug/alcohol free.
Sunday, December 7, 2014
12:00pm – 7:00pm (workshop at 12:30pm)
Fais Do Do Ballroom
5257 W. Adams Blvd, LA, 90016
TICKETS: http://www.eventbrite.com/e/starhawk-2014-climate-workshop-winters-dream-ritual-tickets-13340013339
ABOUT STARHAWK
Starhawk is one of the most respected voices in modern Goddess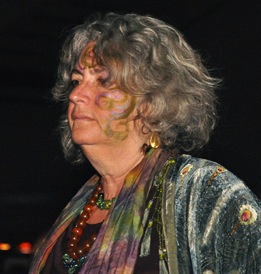 religion and earth-based spirituality. She has authored or coauthored twelve books, including the classic The Spiral Dance and The Fifth Sacred Thing, now in development as a feature film. A veteran of progressive movements, and deeply committed to bringing the techniques and creative power of spirituality to political activism, Starhawk directs and teaches Earth Activist Trainings, which combine a Permaculture design certificate course with a grounding in spirit and a focus on organizing and activism. http://www.starhawk.org/
ABOUT RECLAIMING LA
Reclaiming LA is a community of women and men in the greater Los Angeles area who celebrate earth-based spirituality in support of justice in all its forms – environmental, social, political, racial, gender, and economic.
http://reclaimingla.org/
EVENT PARTNERS
SoCal 350 Climate Action Coalition
Gaia Grove
Cross Pollinate
Joyful Activist
Temple of the Goddess